An Ode to Paper
February 1, 2014
A new notebook.Full of new pages.Hardbound.Smells good.

I open it to the first page,caressing it.
Paper.I breathe in deeply.
The smell of it,the feel of it,the sight of it-these are the things I love best in the world.
The page is so spotless,so startlingly white-as if it has been drained of blood.
In its very blankness,it has so much to offer.
I start writing.
The familiar feel of pen on paper is so comforting.Nothing short of exhilarating.
I pour out bits and pieces of my soul into the paper.It comes alive.Flushes with the bloom of life.
The words dance at the tip of my pen.
Letters forming words.Words linked into sentences.
This is magic.
I feel something taking over my pen.I give over.I let it write through me.
I'm filled with some wonderful joy.No,this is better than joy.
The certain something in me has taken over.Then all at once,it leaves.
The magic fades.
I'm left trying to reconstruct it but to no avail.
I read through the words on paper.
I shudder.I get a glimpse into my own soul.
My words have joined together to form a reflection.
A reflection of me.Of my mind.Of my soul.
Reading them,I get to know myself.
And much as I hate the genuine,I kind of like the reflection.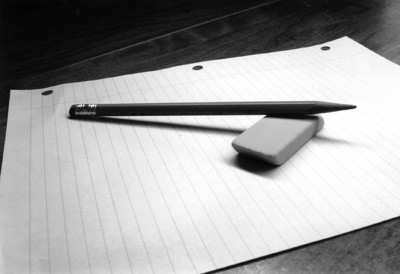 © Michael H., Mildford, CT