Fall..
January 4, 2014
I have given you parts of me that I want you to see

The other parts are well hidden

with good purpose.

I'm not afraid to tell you that i love you

I'm afraid to actually be next to you,

and feel that feeling that i tried so hard to avoid.

To feel your warmth on me,

To listen to your heart beat

To witness your eyes glistening when you gaze off at the sky

To experience you in your own element,

your own world

That you, unknowingly welcomed me in.

I'm afraid that once i allow myself to fall completely

I wont be sane

I will be utterly, and completely confused

A mess,

that has to be untouched

that needs to be left alone.

I'm afraid that once i let you in,

Let you consume every thought in my head

Every blink of an eye,

Every step outside

I'm afraid that i will push you away.

I will be too scared of the feeling of being completely vulnerable

Not being able to control my emotions

When it comes to you.

But if i fall

I'm allowing you to see parts of me that i refuse to let anyone see

I'm allowing you to uncover the secrets that might hinder the impression you thought of me

I'm allowing you to see the scars that has been left by past lovers

or even me.

I warn you,

I have many flaws,

I have made many mistakes

I am not perfect.

But darling, you are consistent.

You are the sun peeking through the window shade

To just see me

To remind me that you're always here.

And with that I deserve to let you in,

to trust that these feelings in the pit of my stomach,

Is you.

Is you waiting for me to leave the door unlocked,

Leave the key under the mat.

Waiting for me to fall,

Fall for you.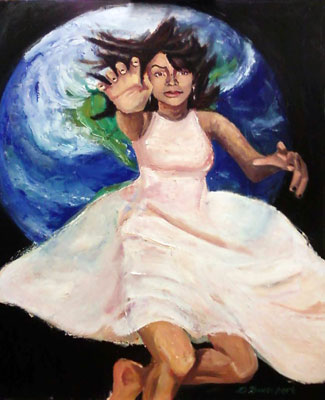 © Dominique D., Ozone Park, NY