Wingless Behind this Wall
October 5, 2013
I am crippled,
disheveled,
Hiding behind a wall that I have built myself.

I hide behind this wall
Frightened
by my new visitors that want to chip away at my wall.

What if they don't find what they want? They won't rebuild my wall!

I will be exposed and unsafe...
a fragile, wingless butterfly.

I'm not fragile.
Nor wingless.
Just scared of my potential.

I could grow wings if I tried.

One day, people will be chipping away at my wall and I will fly up over the top telling them to drop their tools!

I will spread my sparkling, white wings and touch the sky! Every cloud, every star... maybe even the moon!

I will destroy the walls I once hid behind as my visitors watch in amazement.

When I am ready I will grow wings.

But will I ever be ready?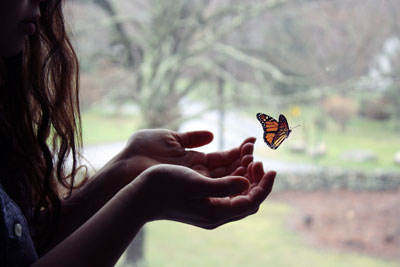 © Sandy H., Woodbridge, CT