Más Alla (Beyond)
September 22, 2013
Hay un lugar más allá de las torres,
De rascacielos que punzan las nubes,
De los laberintos pintados en gris,
Caras bacillas, perdidas sin rumbo.

Hay un paisaje que surge con vida,
Donde las montañas besan el cielo,
Y los senderos bailan por los montes,
Al aire libre, verdes horizontes.

Hay aletas sumergidas en el mar,
Que dejan huellas, rastros en la arena.
Naranja, amarillo, rojo, rosado,
El sol refleja, al atardecer, morado.

Hay allá, más allá, en la distancia;
Con bellas durmientes en su corazón,
Dragones que escupen fuego en desvelo;
Una costa, rica, un país, bello.
__________________________________________

( literal translation to English: )

There is a place beyond the towers,
The skyscrapers that prick the clouds,
The labyrinths painted in gray,
Empty faces, lost, aimless.

There is a landscape surging with life,
Where mountains kiss the sky,
And the trails dance through the hills,
Green horizons in the open.


There are fins submerged in the sea,
That leave footprints, traces in the sand.
Orange, yellow, red, pink,
The sun reflects, at sunset, purple.

There, beyond, in the distance;
With sleeping beauties at her heart,
Dragons that spit fire in their restless sleep;
A rich coast, a country, beautiful.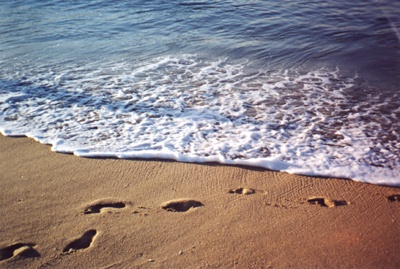 © Daniel M., Phoenix, AZ