Looking for Answers: Above, Below, In Between
July 19, 2013
Night hovers close, sheathing me
Shroud of stars, shivering in gentle light,
To any pilot or passenger above, I am empty,
Staring close enough: just two pupils darker than Night.

Eyes bear the strength of Heaven,
Whisper the infinite of the finite,
The mortality of immortality I will never comprehend,
Because time always falls too short.

Breathe in stardust, a spray of shooting suns,
Burning to their deaths, severing blackness with reds,
An image no artist—poet, painter, dreamer—can capture,
Forever enthralled by buzzing hues, dancing.

What is above? Earth, atmosphere, solar system, galaxy.
Indulge me more—murmur this to me!
For once, the wind is silent;
Closing my obsidian eyes, I imagine.

Humanity knows not enough, dubbing this next phase
The only thing we can think of: Outer Space--
Beyond us, not for us to care or know, acceptance:
"It is not inner, sacred space; therefore it is Outer."

Deep down, I know stars are within me,
Bubbling like excited champagne, I can see:
Soaring stars and meteor showers, blazing, radiating,
Smoky tails trailing in my eyelids.

And what, might I contemplate, may be in the bowels of Earth?
Intestines melted into molten lava, oozing through pores like sweat,
Dripping past cracks and into towns, a purgatory on soil,
Smothered rocks, compressed into ribbons of cake tiers.

But I will transcend even if the Devil won't tell me his secrets,
Through my mind, there are canyons, smoldering lands before time,
As though I can shovel my way through the metal center like Jules Verne,
Oh, Joy in those destructive waves of desire, piping hot.

An answer is never good enough:
I need a cocktail of creativity, imagination, science, reason,
Very components that fight, never prevailing over the other:
There is beauty in the imagination, the only place I can go.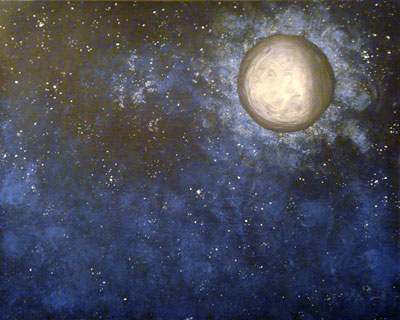 © Allison H., Vancouver, WA