Puppets
June 1, 2013
Welcome to this town,
Not too far from a big city.
Population of one,
Teenager that threatened the balance
Of the princes and princesses,
The athletes and the artists,
The nerds and new kids.
All different by the outside,
Yet on the inside all the same.
She watched as each day passed,
Waiting.
For someone, something to dare,
To cross the line,
Become the headline,
Step out of the line,
Which we filed into day in and day out.
Controlled by parents,
With the future in mind.
Molding lives they never had,
Like puppeteers.?And we were the puppets,
Held by fragile strings.
A string broke with a heart,
A string broke with a death,
Another with failing grades,
And a final with vicious rumors,
That spread like wildfire,
In the halls of the town's school.
But there would always be,
A few strings intact.
For these people ached to fix them.
To remain in the line with the perfect strings.
To be okay being a copy,
Not-so-fresh of the scanner.
With a barcode, a key,
Desired by all,
To this twisted form of happiness.
But this teen had enough,
Of the faces blending together,
Unable to tell one clone from another.
So she yanked each and every last string,
Out of the hands of those around her.
A blemish on the face of the town.?A red sport that no one wanted to see,
But picked at anyways.
Hoping to gain some sense of achievement,
Only to remain with a scar,
When they would see,?
What this girl would make of her life.
She will be the creator of magnificence,
The apple of envious eyes.
A bright light in a sea of dark,
The one who stepped out of the line.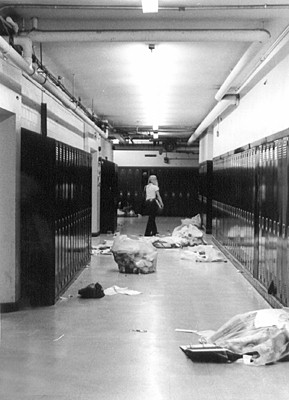 © Halsey S., Marblehead, MA