Dawn's Battle
May 11, 2013
In ancient poems,
Like those from Homer,
Dawn was a lady,
With
"Rose-red fingers".
She woke to start a new,
Beautiful,
Day.

Nowadays,
Dawn is missed.
We sleep,
Rest,
Slumber,
Through her beautiful performance
Of color.
Sometimes,
If we are lucky,
We awake at the end,
And get to see the sky tinted faint orange
And
The beams of fresh sunlight coming in through the window.

But,
Every once in awhile,
We wake early,
And see
Salmon, crimson, and gold
Battling,
Fighting,
Pushing away
The dark blue of the night.

The moon,
Still bright,
Even in the beginnings of the day,
Is watching
Viewing,
Seeing,
The fierce struggle.
It is there,
Silently hanging,
Neither cheering nor booing.
A quiet spectator
To the war for the world.

Slowly, slowly,
The darkness recedes,
The moon fades,
Hides,
Disappears,
And birds sing their joy at a new day;
At the battle won by the noble Lady;
Dawn.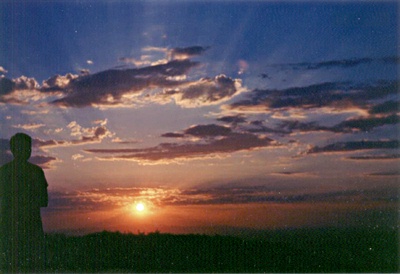 © Jovee B., Dededo, Guam