The Game
May 11, 2013
Cleats pounding the ground,
Breath coming in bursts,
A white streak
Bouncing from feet to feet.
Coach yelling, screaming
Goalie diving, missing,
"Goal!"

Players scowling, cheering
They start again,
On their toes,
Nervous, tired, ready,
Adrenaline coursing through veins,
Grass on shorts,
Stains.

Ball zigging,
Zagging,
Flying
From number seven
To eleven.
From fifteen
To twenty-one.
Shooting,
Then missing.

The goalie kicks.
Hard.
The black-and-white object
Goes flying,
Soaring,
Sailing,
Landing far into the other field.

The forwards rush at the ball.
The defense charges the forwards.
They go
Kicking,
Smacking,
Grunting,
Eager to win.

Number fourteen breaks free
Kicking,
Running,
Dribbling,
Shooting,
Scoring!
The team cheers!

A whistle blows
Once,
Twice,
Three times.
The game is over.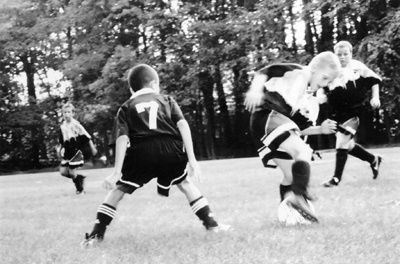 © Daniel W., Mount View, NJ