Unexpected Visit from a Raven
April 18, 2013
Fireworks: the way my heart beats—a few eruptions,
but then silently dissipates— it's just a simple stated fact.
So many dreams shut down by the murmured word, "No."

Nothing about death or funerals is quiet, or pretty,
because the one adorned with black
walking down the aisle with black roses awaits the sight of the corpse
she once laughed with, painted with, and played rock with.

His coffin lay upon the Summer grass of June,
with purple lilies hugging the wooden box,
that would be soon soaked with the minerals of the Earth,
and ants will eat away his flesh.

His perfectly sculpted body would be taken
by the power of nature and her creatures,
leaving a skeleton that will never show the person he was.
His skeleton hands will never show that he was an Artist;
an Artist of not just art but music as well.
His boned fingers will never show
such dexterity how he held a brush,
or how he strummed on a guitar.
The bones of his Roman face
won't ever show what gold eyes
were held in his eye sockets,
or what sandy blond hair sat upon his head,
which made cupid double over in pain.

It was now silent; the funeral had finally begun.
The invisible hand had only covered the mouths of the onlookers,
and muted every bird.
It did nothing about the beating of my heart
or the painful sobs behind my dry eyes
as they saw the top of the corpse's head.

One more step.
My sight became engrossed with the corpse.
They dolled him in a black tux with a silver and purple tie.
I knew what were hid behind the sleeves of his tux: his flesh,
and behind that was not blood,
but embalming fluid; his skin
nearly translucent with the absence of blood.
The corpse in the coffin was not him.
Newspapers, websites,
and the loud whispers of incompetent liars
passed on that his death was a suicide.
But I differed. Not my Starling, because

Animosity
encroaches at an exponential rate
over a once mended glass splintered heart.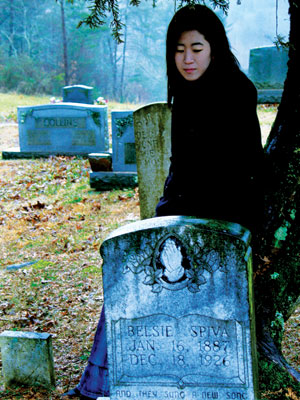 © Michelle B., Blairsville, GA