He Sings
April 15, 2013
A dark hood,
Stars against a blurry sky.
The city,
With it's blinding lights and noise.

A lone figure,
Murmuring a lost song,
Shivering with fear.

No one sees him,
If they do they keep walking.
They could do something,
But they won't.

He's hurting,
More than others,
Because of their judgement,
That falls like a knife.

He lost it all,
He tumbled and collapsed.

He's alone,
No home,
No food,
No water.

But he still sings.
"I get lost in your eyes,
And when the lights go down,
That's where I'll be found."

He thinks of the girl,
That once loved him so much,
Thinks of what he left behind...
And he sings more.

He sings,
His voice dripping like a soaking rain,
Of regret,
Of pain,
But of hope.

He sings his song,
Among other's groans,
and other's sobs.

He sings,
And he grows wings,
To get back to the girl he left behind,
With her pretty smile,
Her dark hair,
And starry eyes.

He sings when no one else will,
And he'll live while others die,
Because he has hope,
Among the filth,
And the hate.

His hope,
His love,
Will keep him safe.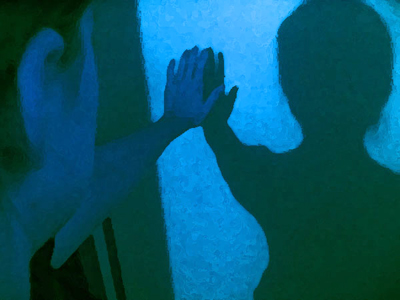 © Katie C., Libertyville, IA