Webbed
March 20, 2013
She returned from there
(there, summery era tasting of light
rays on living room floors and dust)
With susurrations of the heart and
mind.

She began speaking in tongues,
Pig Latin, archaic and esoteric, yet crude
un-erudite, child's play, English blibbers,
"I am a spider," she said, stretching thin
legs

Daddy long, but only deux
A lacking bundle of wheat attached
to a dot of a torso, nonexistent bosom
signifying short-lived shirt-less shame
less

Than human mine. She was
spider-like, fingers webbed thickly
capturing ions, pinching follicles,
threaded perspectives, senses
triggered

Like tripwires clinging to
her nails. Amazed, I figure silhouettes
of my past, lives singing sound checks
and echoing afterthoughts to hear
felines

Somewhere in my curled
toes, buoyant feet, child's play pose
every mourn and natural eve, wound
licking, wound pouncing, naps and more
naps

Due to some fear of reality
and hateful superiority. "I am a cat,"
I said, rubbing my cheek raw red as
black fur sprouted and tail flicked
knowingly.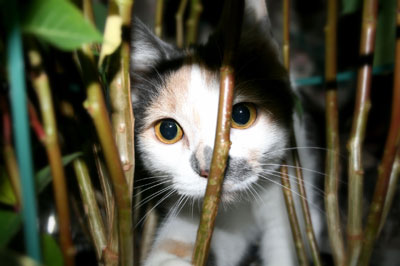 © Leah B., Kokomo, IN