Why, Mother Nature?
February 12, 2013
It's something I've been meaning to investigate,
Well, that's just my problem, you see.
Mother Nature is cunning and apparently has a sense of humor,
But I simply must ask: why me?

When I say "me" I don't mean me.
I mean us, all of us.
You, me, kings, queens,
Teachers, politicians and that guy on the bus.

Here I may lie, wide awake,
Thinking of my future and regretting the past.
But why must we? What made us this way?
She told us our chance had passed.

She made us in a complicated way,
We say things we do not mean to say
We work all day and dream all night
Why couldn't we be like birds, gentle in flight?

Alright, I admit, we are the smartest, most intelligent animals on this Earth
But what good does that do for us?
We build buildings taller than the tallest trees
But when it comes to simplicity why do we fuss?

Yes, I could live without my machines.
Yes, I could live without my books.
Why couldn't we be free of worry and cares?
Why not turn us into lumbering bears?

You may be confused and a little bit startled,
Allow me to explain myself more clearly.
Have you seen the way an eagle soars, how a dolphin has no philosophies?
I want to be like that, free of this intellectual burden.

Maybe we are different and you do not want that.
Maybe you want to be the human that you are.
But I want to climb and screech like a howler monkey
Without anyone staring strangely at me.

Mother Nature can really spook me
With her mysterious ways and sudden jumps
Just take me, as I am and morph me, change me.
I want to be as a creature in the wild.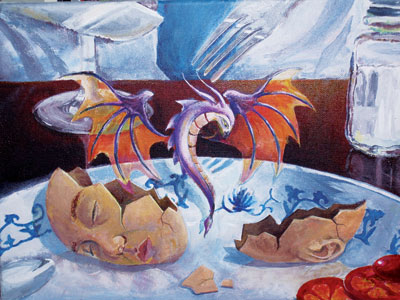 © Yukun Z., Toronto, ON, Canada