The Orange Planet
February 10, 2013
We climb up hills,
And we walk across valleys,
Looking for a place to bury our delectable
Treasure.
So juicy, so sweet,
It's something to savor.
We must stop very often
To lay down and rest
And the ground feels like a cloth
That we used to wipe our
Tears
Off of our
Cheeks.
We jump over holes,
And we walk through the dirt:
Crunch…
Crunch…
Crunch…
And we
Stop.
We begin to dig,
Feeling nothing but dried frosting
As the sound of ripping paper fills our
Ears.
As we dig deeper,
We feel the loamy soil,
Softer than a baby's blanket.
And we know
That's where we'll bury
Our delectable treasure.

We go on with our happy lives,
But sometime later,
We remember.
We hurry to the spot,
The place where we
Buried
Our delectable treasure.
We dig it up,
But all that was left
Was a peel,
A lifeless shell,
A corpse,
A ghost,
With all of its juices
Gone
Forever.
Our hearts ripped apart,
Like ripping apart the sections of an
Orange.
Our
Orange.
But then,
We see
A group
Of baby birds,
Without a mother,
Without a home.
We realize that we're
Lucky
Just to be alive,
So we take the birds with us,
And take
Our darling new treasures
Home.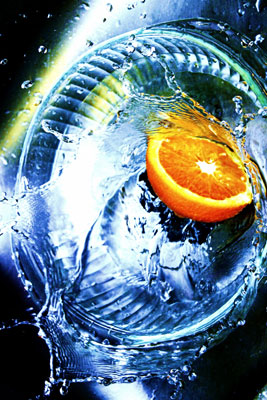 © Bianca A., Damascus, MD