In Over Your Head
January 17, 2013
The beginning is the worst part.

The shock of shattering the flawless looking glass;
Pinwheeling upon impact, with a scream that's smothered
By the mind-numbing cold that consumes you whole, and which
Cyclones against the back of your throat.

Your lungs fill with bitter hellfire, and you panic.
Fighting the fog and grasping
At nothing but air bubbles.
Your brain is but an anchor,
Tugging you down to terrible,

Dark,


Depths.
Your sobs merely ripples
Radiating out from the point of entry,
Mimicking the shudders of your fading frame.

Fighting only makes it worse,
Only makes you descend and spiral out of control faster.
Gills, oh if only you could develop gills…
Then you could be rid of the crushing weight
On your chest, and relieve
The pressure emanating from the inside of your neck
Out. Your legs have stopped working,
Have stopped kicking, and your
Arms dangle involuntarily over your head,
A shameful white flag.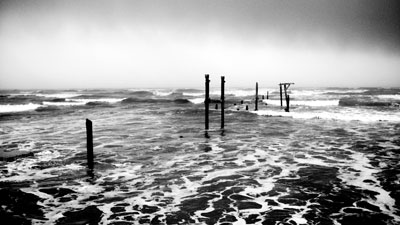 © Harrison L., Ruston, LA