Respect your elders
MAG
October 1, 2012
Here's a fact,
We've all got grandmas.
Some are big, some are small,
Some are short and some are vast,
and they're all stuck in the past,
with one foot wiggling with the jump and jive of
bebop dive
and one foot wrinkled and regal,
with veins like the mighty Mississippi emptying out into
cluttered apartments
filled with muttered crossword hints
and stuttered breath mints so
whether she's a cheek-pinching, bridge-playing maniac or
no more than a shadow on your mantelpiece
she's out there somewhere,
and she loves you.

So when you're out cruising till dawn,
Numbing your mind with
Black tar
Heavy metal
Waterbottle bongs and
Chasing lost illusions dressed in lacy thongs
Remember your grandma.
But don't pretend that she's frowning at you, looking down at you, no.
If she could have her way,
She'd be rollin' with the boys,
Singing out brash anthems of second-time-around youth
and popping open bottles with her infallible golden tooth.

And if you think you've got problems,
Think again.
Your grandma lived through the f**king Great Depression!
Have you ever asked her about her childhood?
Have you ever looked through the years of emotional sediment,
Brushed away the moss and soil that decades of life on this
Dusty moon rock will give you,
And seen that unlike us,
She is made with authenticity?

Her skin is soft and imperfect,
Unlike our shells of fiberglass and steel.
Her joints, though weak,
Have none of the cogs and gears that you find in the
Children of the 21st century,
and her heart, though it may not drum with the manic fervor of ours,
pumps out blood,
not Kool-Aid and anti-freeze.

And maybe your grandma's far off,
In another country, or a better place
Or maybe she's right in front of you,
With a runaway memory
etched into her soft face.
And maybe,
Like mine,
She's in between.
A place where this morning's breakfast is replaced
By a wedding kiss.
a doctor's appointment
by a magical trip to Paris,
and the exact date of the unveiling
replaced by the last time she held his hand,
the last time he told her he loved her,
and the smile that lingered on his face,
even after his butterfly heart
fluttered its delicate wings for the last time.

So, macho men of the world,
You heartbreakers,
You rule-forsakers,
Whether you like it or not,
Your grandma's out there,
And she loves you.
A lot.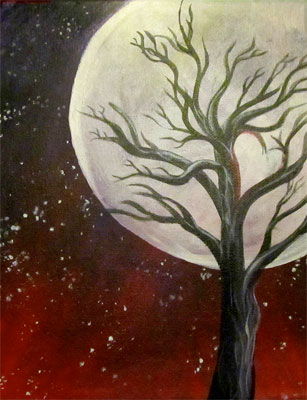 © Rebecca F., Madison, SD