Shooting Star
July 30, 2012
when he first met her
she was a shooting star
stunning and radiant
flashing through the blackness
entirely assured of her own brilliancy
headstrong and commonly admired.
he was enchanted
decided that he wanted her
and chased her
with a single minded determination.
he did what plenty of others had attempted
shot out of the stratosphere
swung from orion's belt
and danced by the dippers.
holding up his butterfly net
he did what the others could not.
he caught her
brought her back to earth
he hung her on a chain like a diamond
and wore her around his neck
he polished her and prized her
slept next to her every night
cherished her, and
loved her
until she didn't even want to keep shooting
she just wanted to shine for him
but days flew on
and he began to take her shine for granted
stopped seeing it.
and when he stopped seeing it,
so did she.
and when she stopped seeing it,
it began to fade away.
more and more often
he stuck her on the shelf
next to his childhood bears and toys
all but forgotten
leaving her to grow dustier, dimmer, duller
leaving her to dream of the days
when she was his prized possession
the light of his life
as she slowly begins to flicker out entirely
how she wishes
he hadn't stopped chasing her
simply because he caught her.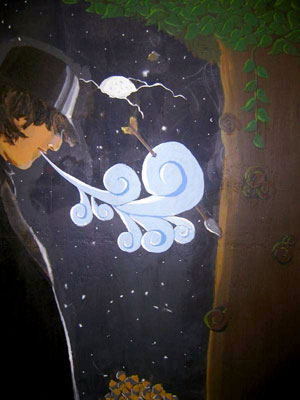 © Dean W., Hinesville, GA