Shadow
July 8, 2012
I am a shadow
A silhouette of what was
Not what is
I am not a beam of light
I am a shadow
A shadow of who lived before me
Of who died before me
A gray nothing
Just a gray, gray nothing...
All who light up my world will be sucked into my vortex
The vortex I created
I could be light...
Maybe, if I really tried
Or maybe not
I am simply me
A gray shape with unsure lines
Following anything blocking the light
It's not like I have a choice...
Do I even have a conscience?
I feel unsubstantial
I only wish to be that which I am not
No one can love something that was never really there
Sure, you could try
Try and try and try and try...
Try as you may, I'm a lost cause
A gray blob slowly getting blacker... Blacker
Black.
Watch me be me
Watch me be nothing
Watch me be different
Watch me...
Watch me be a shadow
For that's what I am
What I have become
I could either be light or dark
Spotlight or shadow
Day or night
Black or white
Only... I'm not
I'm the silver lining
The shadow that creates shadows
Not bad, not good
Not mean, not sweet
I am nothing
Nothing...
And proud of it.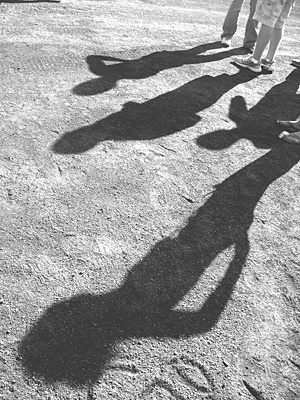 © Trella R., Mountain Lakes, NJ