Summer Rainstorm
July 3, 2012
The air is hot and humid,
As the conversation slowly, barely travels
As we begin the process
Of chasing down meaningless words
In the place of something
We may never speak of again.
The air becomes heavy,
Like I could reach out and
Grab a handful of it.
Gray clouds hover over the porch,
Blocking the sweet summer light
That has burned through our senses.
I start to pick at it –
The forbidden topic-
The must-never-speak-of-again subject-
Until your brown eyes look down at the painted wood balcony.
The wind begins to howl and whisper,
Pulling the trees into its grasp.
You look up at me again,
Little lakes in your eyes,
Sliding down your pale face.
Then,
Suddenly,
The rain begins to fall.
The sky releases its fluids,
And it pounds the ground,
On us,
Showering us with the steamy rain.
Like a million truths being released at the same moment,
The rain falls.
And yours, among them.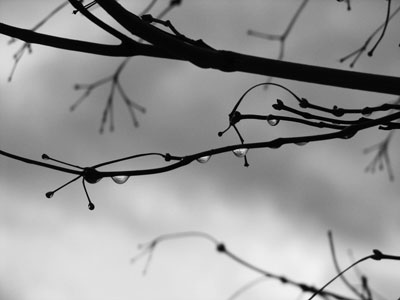 © Carly M., Hopedale, MA