One and the Same
June 23, 2012
I see what you mean,
You hate yourself,
You don't want to live,
You don't want to be the one that goes down,
You aren't perfect,
And pain is what you know,
You can't get help from your friends,
You can't live life,
It isn't worth it.
Plus, who is there to stop you?
There's so much wrong with you,
How could anyone understand?
Running away,
That's what you want to do,
And now that there's nobody there to stop you,
All you say is Why Not?
You hate yourself,
You're worthless,
Unimportant.
Because you see,
You can't expect anyone to be there for you,
You want to lash out,
You want to scream,
You want to destroy everything,
Make it mirror how you feel inside.
Today is the day,
You think,
That you will plow through,
The pain,
The tears,
They are real and you can't escape.
You are trapped,
Slowly getting pushed to the floor.
In a mix of colors,
You choose the black,
Because it mirrors your eyes,
The black hole you carry inside.
You whisper,
Please help me,
And they just watch you,
Then turn around,
They don't want someone damaged,
Instead they want someone perfect.
You give me strange looks,
You watch me,
Finally turning to say,
How'd You Know?
My reply is that I knew,
Because it's how I've felt all along.
I step away,
Only to find that you were a dream.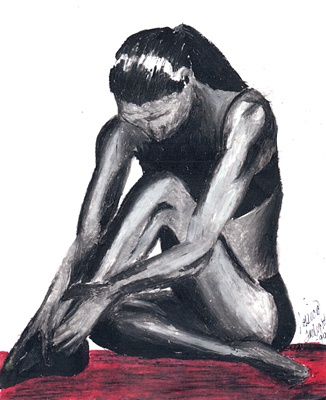 © Jessie Y., Ahwahnee, CA