Hands
June 3, 2012
Who asked the question
on whether or not hands
represent a snare in which
we both have been bound?

You know...
Where your hand occupied both of mine?

Yeah... that...thanks to you,
I am now festering under the captivity
that is marked on the swirled prints of my fingertips
and lined crevices of my palms

And where each line represents
the wrong paths we took
each one of us swerving
into each others' traps

our hands.

Mingled together as a woven basket,
they spoke in unison, as they held
together their traps of affection
between my right hip and your left

our hands.

And the bleating touch of sweat
that earnestly edged at the webbing of my forefinger
from the warmth of gripped palms
was every ones' exhibit to our infatuation

our hands.

When they gripped to create a map
where no line, no river was ever a turn gone wrong,
if separated, they resembled a trench, a ditch
in which neither of us could escape

our hands.

To our satisfaction may we hold again,
and once more may we intertwine our fingers
to examine the foul of our displeasure
and pull away once more to feel how lost we really are.

and pull away once more to feel the imprint

left on my wrists

to feel the scarlet marks of lust
wrapped around each fore arm

Where the bonds and chains
left a deepened mark
on these caramel colored fists
that used to be thrust abruptly in your rugged palms

by my own will

For me to imprison myself
by my own molded volition
to emulate into what is now

a work of stone

where no longer
may I be formed into
the image you have sought
for me to be

formed by your own hands
was I created from a blooming flower
into a rooted weed
which stays forever scarred inside

Where our hands weaved in sync
they now are left with shades of
light and dark
through the gates and blinds
left through which I can see
a little light.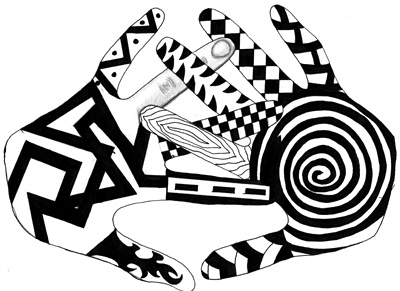 © Sarah F., FL