This Diamond Ring
April 30, 2012
This diamond ring molds around my finger
Growing fat on vanity and lethargy
While my other famished fingers grow
Anorexic for love while craving a sparkling specimen of devotion.

This diamond ring symbolizes trite wanton values
And lustful desires we place in our materialistic marriage to fate,
While padding the swivel seats we sway in, in divorce court
While arguing over the rights of
This diamond ring.

I am appalled at my shallow affectations for allowing
Myself to engage in billowing white weddings while
Sanding and slicing the souls of all of my third world counterparts
Who are exploited because of my love for this diamond ring.

This diamond ring grows heavy on my finger
And I am reminded of how the world should be a dull place
Without the undulating rhythms of children screaming to play the game of
Innocence while others grow fat and lazy and yet,
Thousands die only to feed my ambitions-
How offensive.

I am wondering how this thing has happened,
How I am able to forgo all of the things that keep me
Onehundredpercent
Sane,
And beg for this diamond ring.

This diamond ring-
Will cost thousands their lives and
Make mine more popular for
5, 4, 3, 2, 1
Seconds.

This diamond ring
…..
I no longer want.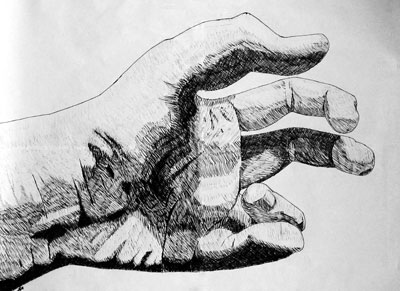 © Luke S., Montclair, NJ