Senseless
May 3, 2012
Love is a degraded art.

I have been dumbed down and poisoned with just enough polite characteristics of humanity, to pass as a carnivore that occasionally feels, eats, sleeps, and then procreates just enough people to continue the cycle.

My life purpose has been utterly defined and stretched without my permission.
It wanes against the smeary shadows beside my bed and declares itself as Normal.

I have NORMAL written across my forehead.

I don't want to be average.
Average reeks of unoriginal thought and a lack of creativity and spontaneity.
Average is going obsolete.

But, apparently, my stamp of approval is not needed in this society of hierarchies.
Apparently, I am good for seeking approval and finding pleasure in that.
THAT is my manifest destiny.

Too bad, dearest society, that I have a mind.

Too bad, that my brain works without having to be programmed or my skin Botoxed.

Too bad, I have/will continue to, reject all of your trappings.
Too_____bad.

I feel as if all of my words are spoken underwater and adults are content to smile and bat their eyes because I amuse them.
I am "cute," and "young" and "silly" and "so innocent" and "sheltered."

Is my dissension too quiet, or perhaps, I am simply the new "thing." My ramblings go unheard because I am an anomaly:

Look at Her, watch Her sit and stand and speak, and watch Her clean up after Herself, and watch Her friends laugh and leave Her hanging.

Watch as She turns Her knowledge about (assimilation-no...)education into violent expostulations about the oppressiveness of the Systems. Watch Her just for a little bit more-Her, the Noble Savage.

Me, the Noble Savage.

I used to think that bravery was intangible and required much more muscle mass than I could dream of, but I have smacked ignorance in the face and exhaled courage.
I have fought harder with my words and body, and I have been awarded a stronger and more sympathetic and intuitive conscious instead of a purple heart.
I have Won because I have loved people instead of casting them off to the side.

Love is a degraded art because it has become a noun instead of an action word. Love has become parelled with "like" and "thing" and is used as a filler word.
Love has become degraded because love has become extinct.

Love =a verb.
I=work in progress,
But I have also claimed who I am and who I choose not to be,
So love=learning to respect oneself and ignoring those who are bent on keeping you as absolutely who you aren't.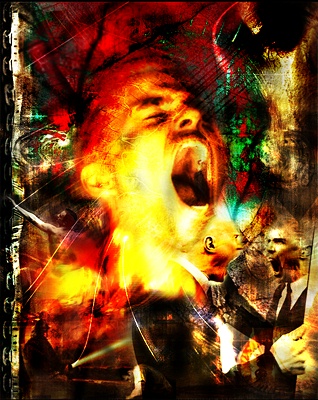 © Mark P. Woodside, NY