Girl Before A Mirror
April 25, 2012
I looked into the mirror before me.
At myself.
Is this who I've become?
Just another teen-aged girl...
In a teen-aged world.
No soul
No integrity
No originality
No self-respect
No grace
No modesty
No hope
Have I really become one of them?
I look into the mirror.
At my clothes:
Brand name tee and ripped up jeans.
Is it really just a statement?
A show of who I am?
Or is it a surrender-
A forfeit to those around me?
I have become one of them.
And I know it.
My thoughts-
Their thoughts
My dreams-
Their dreams
My love-
Their love
My character-
Their character.
It's all the same.
Is it not?
I cannot deny it.
Can you?
I will never be one of purity.
Light.
At least... not forever.
Is it only possible for corruption-
darkness to rule?
It seems like they already have won.
Won the disagreement
Won the blood-shed
Won the battle
Won the war.
It is not arguable.
I stare into my eyes.
The eyes are the window to the soul.
Can you disagree?
Into the darkness they plunge the on lookers.
Into the deep they plunge.
The eyes are NOT the window to the soul.
For if they were mine would be black.
Black as a moonless night.
No man is without truth.
Or love.
A lie is a murder.
A covet is an act of adultery.
A wrong is a WRONG.
No exception.
All sin is the same.
I have committed envy-
Therefore I'm murderous.
A sinner inside and out.
I look at my hair in the reflection.
'The hair is given to women for a covering.'
I look at my slashed, highlighted hair.
My body is the temple of God.
Why misuse it?
The God of all creation.
I am his temple.
I'd better start acting like it.
I look at my image.
What people see me as.
This
Is
NOT
me.
I sob.
The girl in the mirror...
is not always who she seems to be.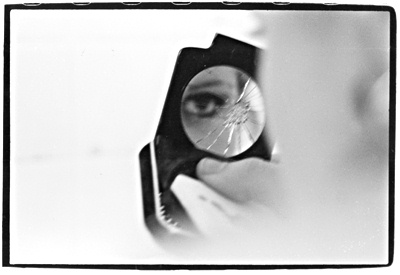 © Heather W., No., Brunswick, NJ