Pregnant...But Saved
April 16, 2012
Punching walls

screaming, cursing.

Yo, how this happen to me? I'm just a kid.

What about school? What about Mom? What about Dad? What about.. me?

Two minutes of pleasure equals nine months of carrying plus twenty-four hours of labor. A grand total of eternal reprimandation.

Kicked out, on the streets. Disappearing family, ghost baby-daddy.

Only the bible by me as I clutch my belly.

God, shower me and my little one in your blood as we travel these rough streets in this dark hour. God, I know I made a mistake and I come to you for forgiveness, grace, and a touch of mercy. God, your love for me is greater than my downfalls. As I caress my belly, breath life into this baby. God, I'm leaning toward you and I'm standing on your word until it comes to pass. God I love you and I know you love me so I know me and this miniature human will be alright as we rest in your hollow hands. Amen.

I can make it. I'm pregnant...but I'm saved.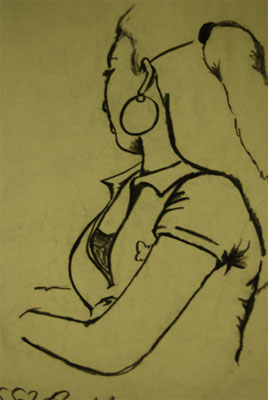 © Janessa B., Kannapolis, NC