~Magical Disasters, Fairytales' End~
October 15, 2011
What if prince charming never came?
And Cinderella remained and slave
Ariel never left the sea,
And Sleeping Beauty forever rests in peace.
What if prince charming never came?
How would've the dragons been slayed?
Isn't this such a tragedy?
That princesses can't save themselves like women in reality?
I love the magic,
The drama and suspense,
But thinking twice…
I don't think I want to live a life of poison apples and mice.
I guess a princess' life just isn't for me,
They're just too many maybes!
What if prince charming doesn't come, and I never, ever get saved?
What if my tower gets closed shut?
And I'm doomed to live in darkness and pain!
Yes, reality is much better.
I just don't want to have to wait!
A fairy godmother can only do so much,
And what if it's just not enough?
I mean daggers and spears, monsters are near,
Witches in disguise,
The fear alone could be my demise!
Sure the princes are charming,
And the scenery's darling,
But I don't think it's worth the pain,
I want to let go of the stories I know,
But the magic forever lives in my brain.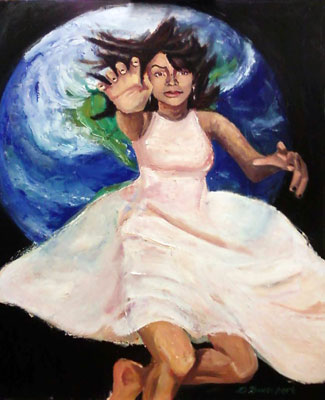 © Dominique D., Ozone Park, NY