Too Gone, Too Stay
October 20, 2011
She was born into a broken home, into a family many would consider poor.
Her mother stayed high all the time, her feet never even touched the floor.
She wanted her dad, but her mom said, "To he** with him. He's never been around, anyway."
The little girl thought to herself, Who are you to talk? you're always too gone to stay.
As time passed by, she began to hate her mother, because of the things she saw her do.
Once, she found her passed out on the floor and out loud she swore,"I'll never be like you."
Years went by, and she became bitter inside; she couldn't wait to get away for good.
Just two more years, she kept reminding herself, everytime she possibly could.
A year before her freedom came, she found her mother lying facedown on the floor.
"Come on, get up," she said calmly, because she'd seen this many times before.
When her mother didn't respond, she turned her over so she could see her face.
But instead of seeing her mother's angry, hateful eyes, death was in it's place.
A pill bottle was laying next to her, but there was nothing but emptiness inside.
The woman shook her head in shame, but the little girl inside her cried.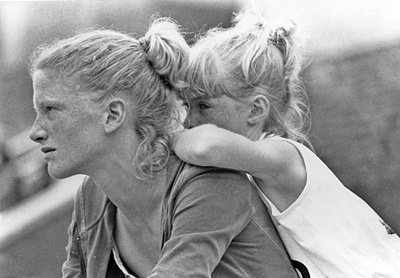 © Felicia F, Marlow, OK