The Teenage Ramblings of Unrequited Love
October 14, 2011
Listen to me!
Holy Crow! What do I have to do to get your attention!!!???
IfItalkreallyfastwillyoustoptolisten?
If…I…pause…a lot…will…you…be…intrigued?
Or is something just wrong with me?
Am I not good enough?
For you…
Is that why you ignore me?
Am I invisible to your eyes, just that unappealing?
If I st-st-stutter when you're around, does that make me weird?
Or if I loose my train of…. Hey look a fly……
What was I saying again??
If I make no sense at all,
Would that really make me so strange?
I'm sorry if I seem deranged.
Sorry I fell in l-o-v-e.
Here is a newsflash, love isn't normal.
Normal people just live; the freaks are the ones who learn to love.
The ones who live adventures!
So go ahead
Fall for the normal gorgeous blond…head
At least I can rhyme.
I bet she can't even tell time….
See what I did there?
Bet you're not impressed, you never are.
I'm sorry you don't listen to me.
Not…when…I…talk…slow…
Orreallyreallyfastlikethis
But one day you'll be bored of her,
And maybe just then you'll realize I exist,
I tried to talk to you.
Then you'll realize, the normals are the ones with the fancy lives, the money all the gold hooks,
But us, the freaks, are the ones they'll spend forever reading about in books.
Maybe one day you'll realize I loved you.
L-O-V-E, spelled it slowly,
So maybe you normals can understand it, then again, when is love ever ordinary?
Oh well, guess I'll move on, and on, and away.
I wonder how life would've been if you would've asked me to stay.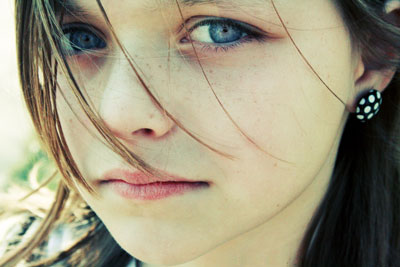 © Felicia R., Arlington Heights, IL