Seasons
October 7, 2011
Seasons are funny things,  
the way they come and go,
some with an inaudible whisper,
swishing in and out of corners
trailing crisp, cold, clear air,
filled with the sent of
musty forest floor.
Then some screech in
with a wild bang,
clouded with the aroma
of fun, laughter and sun.
 
Each season has its own list
of tasks it must complete,
in it's time allotted
so as nature may continue
in its wondrous, 
wheel of time.
 
I sing for spring
to recreate another year and to bring 
the flowers fluttering into 
a glorious bloom.
The busy buzz of bees 
fills the scented air,
calm breeze carries
a robin's first song, 
and children of all creatures
frolic, frisk, and caper.
The first sunny days
shed light on a new world,
ready to start a new year.
Thus the first season creeps.
 
I scream for summer
to bring those auspicious days,
full of mirth, laughter and leisure
that we all anticipate. 
Soft puffs of breeze
rustle rich, lush foliage.
Brilliant bolts of sunlight
fingering its way
through a canopy
onto a moss laden forest floor,
fashioning a dappled glow for the woods.
Summer brings about
a sunbathed world
adorned in a perpetual cerulean sky.
Here the second season
glimmers into existence.
 
Autumn's wind whispers in my ear,
the first frost chasing out the remains
of summer time.
Gusts of wind ripple
liquid gold, auburn, burgundy and sassafras,
occasionally a leaf flutters
to the ground, like baldachin.
Night swallows the light early,
and leering pumpkins
stare at you from the dark.
Rains beat down quenching dry earth,
mud squelches under foot.
Dead leaves make the new forest floor, 
and families give thanks
with colorful festivities.
Arrived has the most metamorphic season.
 
Winter breaths frost,
promising a blanket of silent snow,
crystals crunch under booted feet,
and clouded breath
billows like balzarine,
into the fading sapphire sky.
An unknown world awaits
after a snow fall,
indiscernible mounds and depressions
must lead your way,
explorations must be made
new discoveries are found.
Days for blazing fires,
cold nights,
and winter wonderlands.
Winter lends its icy embrace
for all in need.
Henceforth winter holds 
nature's time in a silent spell.
 
Seasons come,
seasons go, 
hither heel and hither tow,
From icy bite,
to sun lit kiss.
Seasons are funny things
the way they come
and the way they go.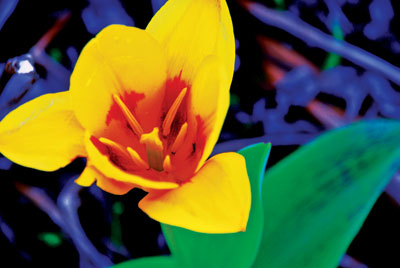 © Hannah B., Princeton, IL