The Institution
August 14, 2011
Where is the rainbow without the rain?
Where is the pleasure without the pain? 
Well without you I'd probably just go insane 
They 'd lock me up in a mental institution 
And give me novacaine to numb the pain I'm in
It'd be a sin if I lost you
Almost like you're the loss but there would be no win 
And come to think about it did you change you're PIN?
I haven't been able to contact you since I checked in 
They said I was here for a reason but I didn't understand why
When they locked me in this room they said they heard me cry
They said I was delusional and you were never coming back 
Now that right there is a joke I'm going to go pack
They say I'm going to crack any second now and possibly loose my mind
They say I started loosing it when you stabbed me from behind 
It killed me when you hurt me so I decided I should die 
That's how I got in this joint because I started to try
I miss you more then ever now my only friend is a fly 
He's on the wall when we talk until he says goodbye
He leaves when the doctor comes in they inject me with this pin 
Although God didn't say so I think it is a sin 
Because when it is jabbed into me thats when monsters start to crawl 
They told me to get over you and then I started to bawl 
My friend is back now he is on the wall 
The doctors said I can give you this letter when I return in the fall 
You have to meet my other friend Paul 
I think that's his name 
Mr. Fly and his friends all look the same 
We always play this game 
It's called who can disappear before the doctor chooses
I'm usually the one that looses 
They let me see someone today I mean an actual person 
She's the most beautiful thing I've ever seen
And her name is Irene
She says our flies talk to each other and her boyfriend stabbed her too
We might have to break up now because its what time will do 
I need you to know I love you though and I'll see ya very soon 
Hugs and kisses from the Institution
From You know who.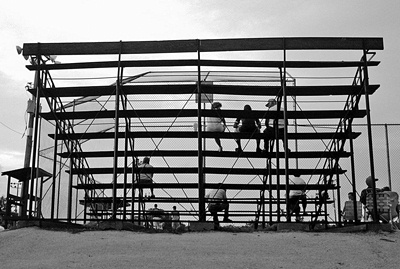 © Katie C., El Dorado Springs, MO