Yvonne, the Freedom Fighter
August 14, 2011
She was led to be sold, and then killed
But sensing her fate she fled
Leaped over an electrified fence, in to a deep forest
In the south of Germany, in Bavaria

The authorities want her dead
But activists plead for her life,
In fact, they bought her for $988 U.S.
Only, where is the fugitive?

They came from France, the West and Austria
But the bandit evaded the masses.
Even sister Waltraud,
Couldn't lure her out

Then one midnight she was captured on film,
Peering through the dark.
It's clear what the rebel was thinking,
For the photograph, captured only her backside!

She's brown with spots of white, and grazes at the noon hour
She's been milked dry and fattened up for dinner,
But Yvonne's got ambitious plans.
If you see her, let her go,
She's off to freedom and greener grasses
The bravest cow in the world!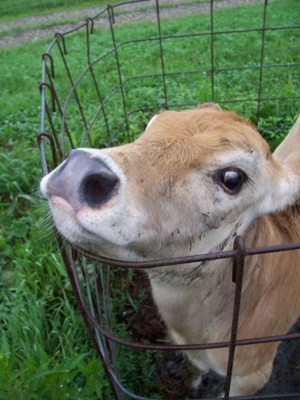 © Simone P., Summerville, SC