Dead Man's Boulevard
July 20, 2011
"Silent as the grave"
is an incorrect phrase.
For the grave is not so silent

When you walk among them
down Dead Man's Boulevard,
they are like houses.
They hide what you don't
have pleasure to view,
and hide those
who desire
to see you.

You swivel around on your feet
this way and that
thinking you heard
the wet squeak of an eyelid blink;
a coffin's dull groan,
or the creaking of bone.

But don't worry!
They're not watching you!
But don't think
they are not able to.
They would if they could;
burrow heavenward
through the soil and worms
just for the savory glimpse
of a gift
they once held dear.

But for now they just wait
in the grave's damp darkness;
stifle their rotting lips
and words,
keeping their reputation
of silence.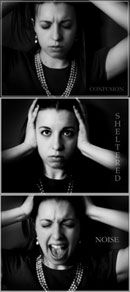 © Michelle B., Blairsville, GA