Waiting for Forever
July 12, 2011
Fluorescent lights
Are softer in very rare places.
Maybe, though, it's not the place
That makes the lighting softer,
But the moments and the memories.
Fluorescent lights
Were softer that day, not quite
Glowing, but close.
Background noise faded away, not
Completely, but close.
Conversations of haircuts, and
The "educational value" of children's movies.
I rested my hands on the cool wooden desk,
Leaned over to laugh and to talk.
The warmth of his skin was comforting,
A shield from the chill of the air.
(They never turn the stupid A/C off,
But it's a good excuse to "get cozy.")
I slipped off my shoes,
Worn-out blue flip flops,
And the rough crevices of the wooden floor
Made tiny marks in the heels of my feet.
They pinched my skin,
But I didn't mind, or notice, even.
The softness of his dark hair distracted me.
(I'm easily distracted. It makes for
An interesting conversation.)
I inhaled, and my nose was filled
With the smell of cologne, and…
"Artificial coconuts?"
"Self-tanner."
I didn't mind, though, and
Closed my eyes and rested my head
Beneath those beautiful
Fluorescent lights,
And began to wait for forever.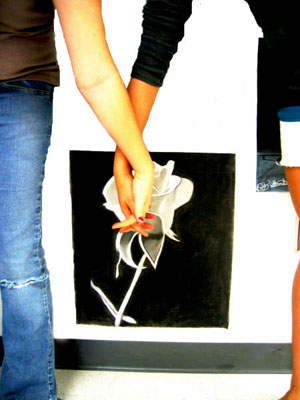 © Josie G., Wilmot, SD