Fantasies
June 17, 2011
She lives on clouds while others live on ground.
Sleeping at daylight, awake by night.
Wings that shine like the full moon, and glistening like a million stars.
Hair like Rapunzel, but blue like the deepest ocean,
and eyes so clear they are almost transparent.
Skin so white, so flawless, it's unheard of.
Her world consisting of fantasy, a fantasy others can only dream of.
Clouds are cotton candy and rain m&m's.
The grass is so soft and cool against ones naked flesh.
A boy who waits until sunset,
just to seek his angelic princess.
An angel who had had her heart stolen.
She awaits the brave warrior who will rescue her heart from evil.
An incredible fantasy, with an ending just light years ahead.
Fantasies never stop, because everyone dreams, even in black and white.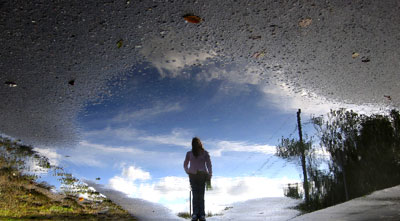 © Daniel H., Oak Bluffs, MA