Dead in the Inside
February 14, 2011
A ceramic mask with fake cream lips
simple and pure, no emotion. I look into the mirror and see what everyone else sees.
And I don't like it.
I see a slim girl, average looks, a pretty smile. A nice girl whose always laughing, the one girl who has no dark side. The girl who can't get hurt, because she's so cheerful.
I hate Her.
I hate this girl I see, who pretends her whole world is so perfect when really its just falling apart. The girl who wants to cry because she hurts and knows she can't because its weakness in the eyes of others.
Why can't She cry?
Not because She doesn't feel, not because she's so strong.
But because She's scared.
Scared that one day she'll open up her whole being until the sadness swallows her soul.
And then She can't turn back.
She doesn't cry because She's afraid She'll find out that She has no tears left.
Her heart is broken, but no one cares.
I want to tear that mask off Her pallid face; shatter it to pieces on the floor.
I want to see Her tears and know that She's human, that she cares.
Because if she doesn't care, then I want to know..
Who will cry for her as she stays alone, with broken heart?
Who tell her that love doesn't always tear a person apart?
Who will care for her while her tears fill an empty sea?
Who will care about the Girl who died inside of me?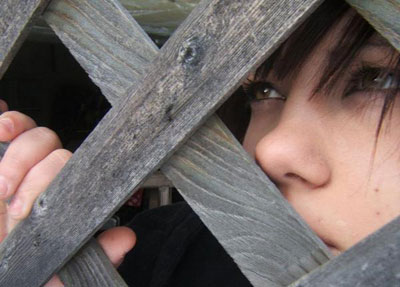 © Krystal B., Bloomingdale, IL