King Midas Reincarnate
January 9, 2011
I am King Midas reincarnate.

Though everything I touch
Does not turn to gold,

I wear a golden mask of pure bliss,
Happiness frozen into my face,
Perfection etched into my expression.

Everyone around me is happy too,
Perfectly, blissfully unable to feel pain;
And I have made them this way,
The responsibility solely mine.

I radiated what I imagined was blinding joy,
Though the feeling behind it less than sincere;
I thought I had fooled them all.
I tried my hardest to make sure
Everyone fell for the forced, happy version of myself.

I had more than a few to fool,
Many had seen me at less than my best.
They all had to believe I was perfect.
But there was one single person
Annoyingly too hard to trick.
Convincing myself proved the hardest of all.

I should have been as happy as I tried to display-
I had absolutely no reason
To be as miserable as I felt underneath.
Yet depression continued to threaten my façade,
Disintegrating the happy girl I desperately wanted to be.

So I made a wish to look perfect.
A wish to seem happy, blissful, carefree.
A wish to bring joy to all I touched,
So the elation belonged to more than just me.

Everyone around me
Was more lighthearted than ever before,
The wish came true in every sense.

The happy bliss contorted my face
And no one could see past my perfection.

For it concealed the darkness consuming me inside.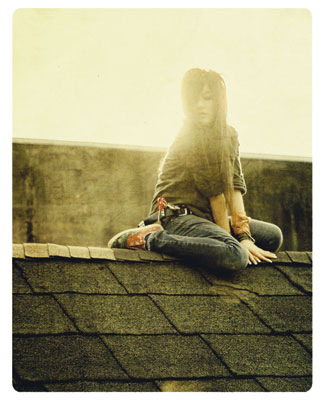 © Hailey J., Lake Oswego, OR