A Wall
December 25, 2010
I built A Wall around my heart
A Wall of hopes and dreams.
A few bricks for who I wanted to be,
One or two for the life I would lead.

But the majority were for the man I would love,
Who would be completely perfect, for me.


You showed up out of nowhere,
Vying for my attention,
Not tall, but dark and handsome
I smiled and swallowed my apprehension.

(A crack is forming
Near the bottom of The Wall,
Wide and threatening,
At the base of it all.)

You pursued me with sweet nothings
Uttered into my ear,
Your voice a dark perfume
That overpowered my naivety and my fear.

(A few bricks are loosened,
And fall into the abyss below,
Grave damage to The Wall
Now impossible to forego.)

Your unbidden hands
Raising goosebumps on my skin;
Your dark cunning eyes
Hypnotically drawing me in.

(Large portions of The Wall
Are knocked out with a hammer,
A crane slams into the sides
And The Wall gives way with a clamor.)

You lead me off, take me away
And force yourself upon me.
Fighting back and crying out
Only makes you grin wider,
So I keep a frozen expression of defiance on my face
Until you slip away.

(The destruction is too great,
Not much remains,
Only the single entrance still stands,
Held in place by heavy chains.)


I built A Wall around my heart.
A Wall of reality and truth.
A Wall of heavy bricks of how it is,
Bricks made of hard lessons
Learned in my youth.
Many for how to become
The person I will someday be,
Several for the kind of life
I'm working to someday lead.

But one brick is built into the gate,
The single door leading to my heart,
That brick is a dream of the man I will someday meet
Who holds the key to the wall around my heart.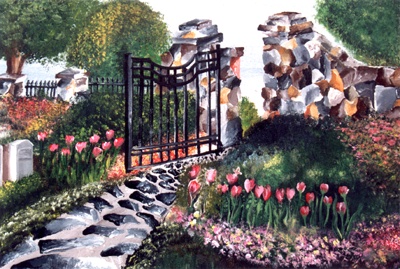 © Anabel T., Kannapolis, NC