I Really Don't Know
December 15, 2010
I don't know
when this started
I don't know
what first began this corruption.
I'm amazed at how much I've changed,
within a month,
I've become everything I've never wanted to be.
I want to take off the mask I am now wearing,
that I've criticized others for wearing...
It's suffocating the real me,
trapped inside,
I want to reverse this transformation.
This unwelcome possession of my soul,
and my tongue,
my lips,
my words,
I spit coated in fiery acid,
they stick and burn...
I close my heart,
and build walls...
I kill friendships with my keen edged words,
well placed,
to strike the heart.
I don't know
when ME stopped being good enough.
I don't care what people think,
but I don't feel pretty,
I feel plain,
ordinary,
and definitely,



not

special...
So I cover what I see...




Can you see?


God I hope not...
This is why



I am alone.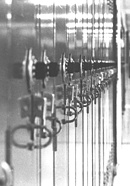 © Megan G., Rochester, MA