I've Stopped Being Scared
November 14, 2010
I am cowering in a dark corner
My back is hunched, an obvious sign
of slavery, of submittance.
Of defeat.
My throbbing face, arms, legs
My growling stomach
my aching head
all scream for shreds of mercy
Mercy yet to be seen.
I sweep up the shards of the crystal vase
that you just hurled at me
No more than ten minutes ago
because your hands started hurting
For you were tired of hitting me.
I feel like I'm cleaning up
The mangled remains of my dreams
From so long ago
that their memories are a teary-eyed haze.
My bloodshot eyes
haven't gone a day without crying
for as long as I can remember.
But you are not here to see me
recollecting. You are too tired.
You are sleeping, like you always were.
You are not here to see me
standing, tears falling fast and thick
on a mountain of all things
broken. All things that can never be fixed.
All I can think of is that I can think.
All I know is that I'm not numb.
All I can feel is gratefulness, for I can feel.
All my hopes and wishes
were emptied in that garbage can
millenia ago.
Yet, I'm here, existing, existing truly
And not just as the robot
you want your wife to be.
What you don't realise is
every time you try to weaken me, I
try to grow stronger.
My feet don't feel cold any more.
My blood has dried on my wounds.
My tears don't flow for that long.
I'm making this strong pain
my painful strength.
My fingers trace the edge of
the big piece from the crystal vase.
The piece that has managed
not to shatter into a million fragments.
Still delicate, still graceful.
Still able to hurt.
As I grasp this shard of glass
and feel it cut into my skin
I take satisfaction from the fact
that you will feel a deeper pain.
******
Your scream has shocked the air
So used to me shrieks
the tiled floor welcomes blood
that is not mine.
Even as you curse me now
in your dying breath
All I lean down to whisper is:
"I've stopped being scared."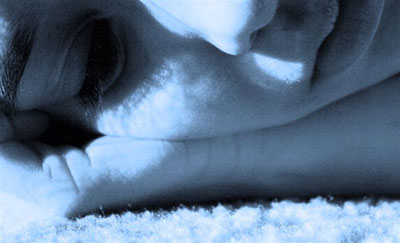 © Paula B., Katy, TX