Lullaby
November 12, 2010
Lullaby


Once a girl sat on the moon. Her feet dangled off towards the lone earth and her head stood straight toward the stars. The girl had long, curly, brown hair and vines and flowers were intertwined from her adventure to the moon. She traveled through jungles, forests, and many deep oceans. She made friends with red sparrows and bluebirds and large, magnificent tigers. Every dusk, this young girl sat on the moon and sang a lullaby to the sleeping world below her. This is what she said:
Goodnight little children, cozy in your beds.
Goodnight grown adults, lie down your heads.
Goodnight to the trees bustling in the wind.
Goodnight to the sunshine, light you always send.
Goodnight lone earth spinning round and round.
I ran through your fields and this is what I found;
A bed full of roses, a pillow made of sky
A blanket for your body and this is where you lie.
So close your eyes dear world tonight.
Sleep well; sleep all, until there is light.

The little girl upon the moon finished her song and smiled. She gathered moon dust in her hands and made a blanket for herself. She made a pillow of stars and laid her back in the night. She dreamt of a moon and a lullaby sung by an angel until she too saw light.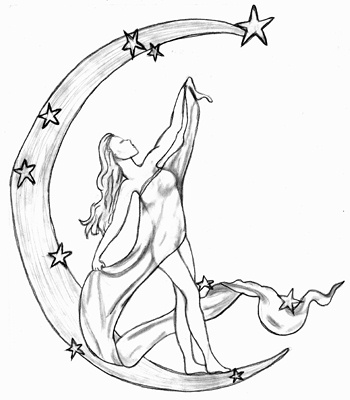 © Bianca C., Phoenix, AZ