Spring
October 29, 2010
It is glowing with life.
It is radiant with love.
It is shining with passion.
It is serene with sentience.

The beautiful flowers bloom softly.
The green grass grows softly.
The flying birds chirp lightly.
The waiting butterflies glimmer mightily.
The pinstriped bees fly strongly.
The fresh dew lays all around.
The ht sun shines excitingly.

Spring time is the best time.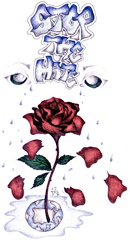 © Diana G.,Phoenix, AZ