I Am Strong
October 23, 2010
I am not weak.
Though tremors rack my body
And speed my pulse;
Though pain opens my tear ducts
And crushes my heart into dust -
I can look into your eyes
Through the waves of pain.
Memories carry me
And help me through
A sliver of hope, pushing too.
Yet you don't even consider me
Worthy of a glance -
You can't look me in the eye
'Cuz you don't have the strength,
Your doubts heavier than mine
Would cause you to sink.
But when your eyes
Finally lock onto mine
YOU are the strong one.
As my eyes fill with tears
You hold it all together
While my poker face slips
No emotion is in your eyes.
These are the final seconds
Our eyes will ever meet
And I'm lost from the present,
Remembering the past.
Never before
Have your eyes been so empty
And I hope they're empty
From this point on,
So no one else sees them as bright
As they once were for me.
I voice my feelings
The best that I can
But your lips don't move and
Your eyes show nothing
To help me understand.
So this one-sided release
Has opened my eyes.
I had the courage to break the silence
That was breaking my heart.
You didn't respond
But I did my part;
Though you're the one who walked away,
I am strong.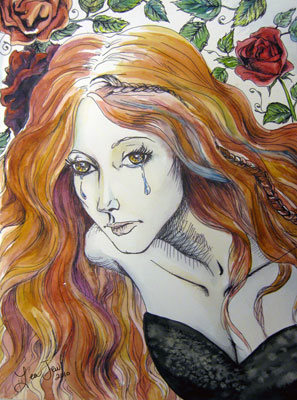 © Leonora J., Fullerton, CA