Our Bitter(Sweet?) End
September 30, 2010
I mumble the words "I love you" -
Under my breath as you walk away
And wonder if any truth lies in them.
So much has happened
To contradict those three cliche words
And I wonder if we've passed
The point of no return -
If not, we're hurtling toward it
With building momentum & unstoppable speed
As resentment boils near the surface
Of the countless mixed feelings
I have for you.
Neither of us know where we stand
(I'm sure you'll agree)
In the silent words you don't speak
And the expressive eyes that don't see.
I mean nothing to you,
I can't feel your eyes on me
Even though they're there,
No emotion registers on your face.
I feel as dead as the inanimate object
You see in my place.
I want so badly to rewind time
Or ask what I did wrong
But the words slip away
Like an old forgotten song.
As I'm overcome by longing
For your comforting arms
Wishing for how it used to be
On shooting stars an lucky charms.
I know I used to love you,
And you loved me back
(Or you were playing a part
And I fell for your act.)
You started forgetting me,
Thinking only of yourself
And pushed my feelings
To the back of the shelf,
Where they sit gathering dust
Forgotten until you go through your junk,
Throwing stuff out and cleaning things up.
I hope you remember
Our bittersweet end
Perfection cut short
By a deep sad kind of silence
I'll never understand.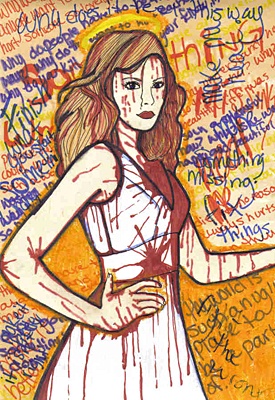 © Sara D., Aiken, SC