Cinderella
September 13, 2010
Your strong warm arms
Holding me tight
Sparking the surprise that starts a fire
Of a long confusing night.

Your eyes take in my carefully-applied make up
And specially chosen dress
I wonder if you know how much I desire
Your appreciative caress.

The deafening speaker screams loudly
To prove we're standing too near,
But I take the chance to press close
My lips linger near your ear.

Your smile is as shallow
As the meaningless things I say,
So I twist off the meaningless word flow
And watch you slip away.

You try to convince your friends
To go with you somewhere else,
So I dance in another's arms
Trying to forget you and escape myself.

I catch sight of you with the guys
Trying to dance to the beat,
I reach your side and we laugh at our lack of skills
And after a minute, take a seat.

I go get a drink
And when I come back,
You're dancing with her -
I feel my heart crack.

I sit at a table,
You sit at a different one,
Its almost time for me to leave,
For the night to be done.

Your brother knowingly follows
My gaze to your table,
I think about the things I want to say or do
That fear disables.

I slip a note to your brother
Trusting he'll pass it on to you,
I stand to leave this night behind
Hoping you'll make it perfect though its almost through.

I slip my arms around your neck,
And you pull me close tightly.
More confused than ever,
I press my lips to your cheek lightly.

I hurriedly flee the quince
Like Cinderella fled the ball
Leaving my Prince Charming behind
Hoping that he'll call.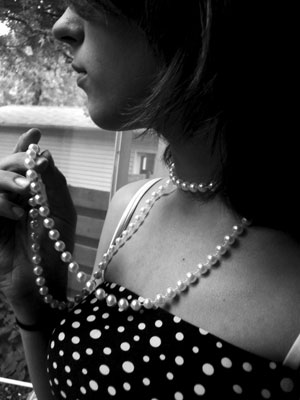 © Elaina V., Canton, OH