Fleeting Happiness
August 19, 2010
Perfect happiness so fleeting,
I wonder if it existed at all.
Days of deafening silence.
Hope falls away with my smile.
Running into each other
Here or there,
Our eyes drawn to each other
Refreshing our memories
And our happiness.
A sudden nervous kiss
Bursting the seams of time
Lasting longer than reality's timer
That counts only mere seconds.
Weeks crawling by
Slowly;
Your image fading
Quickly -
Come back! Please!
Why won't you look at me?
Say something! Please!
I need to hear your voice.
The thing with feathers
That perches in the soul
Has stopped singing.
You don't whisper secrets to me anymore.
But I still hear them,
From the lips of another girl.
I wonder -
Do you know shes telling?
I never told anyone
The things you told me.
I'm brought back to life
When you smile in my direction.
But a tear slides
Down my cheek
As I turn away
From the girl
You're smiling for.
The girl who tells you secrets,
As if bragging that she knows.
Do you play soccer together?
Text about nothing & everything at the same time?
Kiss her boldly through your nerves?
Does she make you happy all the time?
Yes to all of the above?
Well fleeting happiness is better.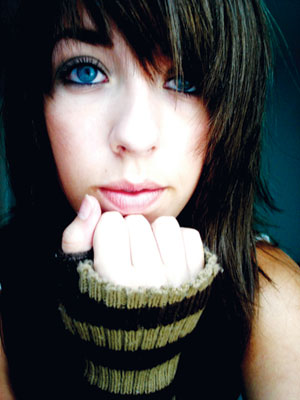 © Brit H., Peabody, MA