Living for the Game
August 13, 2010
"Always Follow Your Dreams, Don't Let Anyone Tell You That You Can't Be Something"-Alex Rodriguez
Up, up, up to bat
Take a few swings,
Step up to the plate, he tilts hat forward and bring his A-game.
His eyes narrow as he watches the pitcher,
Concentrating on the baseball, and the play that is split seconds from happening,
The crowd goes completely still, almost as if holding their breath to see if he makes a good hit.
He tightens his grip on the bat in his hand, everyone's eyes glued just to the batter and the pitcher.
Waiting…waiting…Whoosh the ball is thrown towards the home plate.
BING the ball is hit and in the air, the catcher steps closer up to the base.
The runner throws the bat to the side and runs top speed to the base, seeing the outfielder grab the ball once it hit the ground and long tosses it towards 1st .
The batter slides to the base, as the first basemen catches the ball, the ump calls him Safe.
The crowd goes into roaring cheers and the batter finally relaxes and gets ready for the next play.
Up, up, up to bat; take a few swings and step up to the plate.
Eyes narrowed, he reads the body language, and steps forward to make contact with ball.
The second the ball is hit, the runner runs to the 1st base, the first runner is running top speed as he passes 2nd base, the ball is still in the air, soaring and then drops to the ground, not caught.
He sees he still has time and runs to the third and starts heading home, the ball is thrown in to the infield and the catcher is getting ready for the play at home, the possible out.
The player slides to home and a cloud of dust appears around the catcher and the player and the ump calls him Safe.
An explosion of cheers erupt from the stands for the player that made the run, but the game is his life.
He lives for moments on the field just like that.
The reason he loves baseball, for the adrenaline rush that comes with it, it's the game of his life, its Baseball.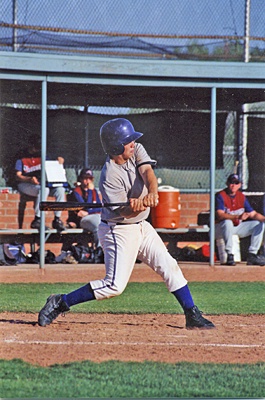 © Mark A., Phoenix, AZ