Were Through
August 10, 2010
"You're the most amazing person I know."
But those words quickly disappeared When you jokingly said
"Were through."
Then everything became serious.
"You were kidding... right?"
I'd say hoping for a certain answer.
But for a while there was no response.
"Are we through like you said?"
"I dont want to put a title on it."
You'd say.
"You kinda have to."
I'd reply.
"Yea. We are I'm really sorry."
You'd say.
"Well, maybe you should be.
I'd say back still weeping.
" I cant wait for the heartbreak at the end of this."
You'd say.
"Good luck with yours. Mine already happened."
I'd reply.
All eyes are on me.
A hand is put on my shoulder.
I'd look up.
The person setting next to me had a compassionate look in his eye.
Then his phone would begin to ring.
He would answer.
"Hello?"
He'd say.
It was him.
He would say
"Is she crying?"
"Yea. She is and its all your fault."
My neighbor would say.
Then he would hang up.
A hug would be given,
And temporally a heart would be mended.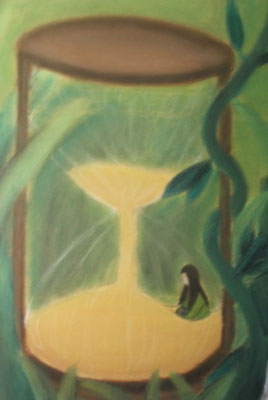 © Carollynn G., Hawthorne, NY