The Riddle
July 25, 2010
Who am I?
I have pale white skin, which is a sharp contrast from the black clothes I wear.
Layers of dark to hide the scars.
Who am I?
I sport pompoms that match my cheery smile.
I learn cheers faster than any concept in my geometry class.
Who am I?
I hold your hand with hate in my heart and fear in my eyes.
You brainwash me yet again.
Who am I?
I carry all my books with me to class, running in the hallway so I can be the first one in the classroom.
I have a bright future and no friends.
Who am I?
I hold a pen like I would a winning lottery ticket; it uncovers words deep within my soul.
Writing is my oasis.
Who am I?
I drink to remember and to forget. I love ping pong and the color red.
Everyone always told me I was daddy's little girl.
Who am I?
I am the voice of the student body. I organize every event and am the pillar that keeps the school together. I have to be perfect.
At home, I'm far from that.
Who am I?
I live to play music. I believe that each note is a piece of a puzzle—a story.
Without music I'd have no way to block-out the crack of that leather belt.
Who am I?
I am the name every boy has heard of. I can't go outside my house without seeing that judging look.
If only you knew how I really felt…
Who am I?
I am the amplifier to a rainbow. I create new worlds with a simple twitch of my paintbrush.
My parents think it's useless—I think it's everything.
Who am I?
I love taking moments out of life and freezing them. The simplicity of nature becomes beautiful in a click.
But passion doesn't pay for college.
Who am I?
I am a superhero. My power: invisibility. I am the name no one's ever heard of, the unrecognizable face. I'm proud to have mastered my power.
Because who would want to know me, anyways?
Who am I?
Truth is.
I'm me. You. I'm who you are and who you could be. I'm the girl sitting next to you right now. I'm who you pass by everyday without even a smile on your face.
I'm a girl with a story; just waiting to be heard.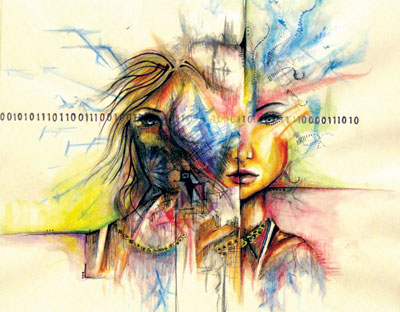 © Melissa W., Fayetteville, GA