The Unkindly Truth
July 13, 2010
Naturally selected
Hand picked
Collecting nothing but the finest
Sharp, witty, crazy
Intelligently sculpted minds
Picture perfect candidates
They bathe in glory
Constantly confused to which color
What size, how many, or which ones
No time to fret over the unessentials
Undiscovered, hidden, and longing.
Self-centered and pitiful
Confident and indestructible
Only the robotic-like could survive--
This was absolutely necessary.
Overlooked and perfected
Three million times,
Frantic silence...absolute mayhem on one,
Complete devastation on the other-
Normalcy.
Final time and destination
Abandoned stragglers stumbling to keep up
While gloriously perfected mannequins relax
Replenish and rediscover their beauty.
Their perfectedness. Their fame and glory.
Moronically so-Life.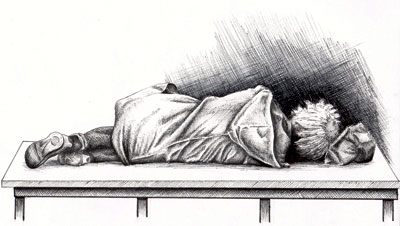 © Devin N., Sherrills Ford, NC