Saved
June 22, 2010
Would you believe me if I said
that I'm living in black and white?
'Cause that's exactly what this is:
an endless struggle, a constant fight.
But I feel so alone,
unable to confide in anyone now.
And my heart is so numb,
unable to love anyone now.
Then you come along,
stroll into the picture so cluelessly.
It's almost as if this was meant to be.
But I've never believed in fate,
it's all a big conspiracy.
Then why is it I feel so right
whenever you are here with me?
My fears melt away,
my past is no longer.
Is it possible that you
have already made me stronger?
But no, I have my shield of steel.
Polished, prepared, ready to defend.
There is no way you can get inside,
I'll never let that happen again.
You entrance me,
it's true that you caught me off guard.
The shield lay forgotten
as you took me in your arms.
All protection is gone now,
my castle's been breached.
They all fell away
when you said you loved me.
Because I believed it.
I might feel it too.
Is it possible?
Is it happening?
I think I love you.
There I was in a deep depression,
slipping farther every day.
When I could've had you,
we could have happened sooner
and now I'm saved,
finally.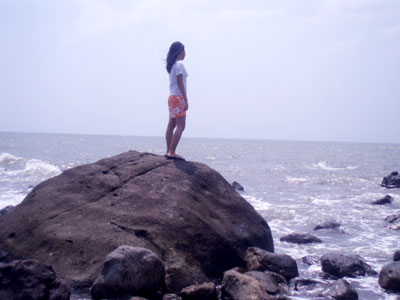 © Grace L., Bacolod City, Philippines