Her Eyes
June 10, 2010
And he said "She'll never love me the way she loves him, will she?"

Look at her eyes. Look at the lights in her eyes.

They shine bright—only for him.

The lights are dimmer and faded when they look at me. Still brighter than the lights she gives her friends, but I want the florescent glow that he has.

And he takes those lights and he throws them away.

He doesn't even care. He doesn't know how lucky he has to have those lights. I would give anything to have them.

But she gives them to him. And she always will.

And the lights she gives me, they're the brightest and most beautiful lights she can give me—but it's not the same.

It's a candle-lit glow.

And he has a fire.

And she thinks that I don't know. That I can't see those lights.

She doesn't want me to feel hurt.

And I'm not—really.

I will always give her a fire, and she will always give me a candle. It's not her fault. She can't help it.

Yes, I will always wish for more. But I will take her candle and put it in my back pocket. And I will love it.

And if there comes a day where I am in darkness, I will use that dimly-lit candle to help me find my way.

Even though a flashlight would be better. I prefer the candle.

Because a candle is all I will ever have. Those faded dimly-lit lights in her eyes. Those lights that mean the world to me.

And he has the fire. The purple flames that die in his eyes.

And I have a candle.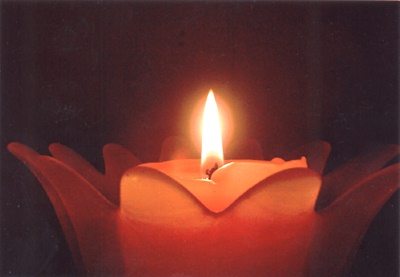 © Sayda C., No. Bergen, NJ